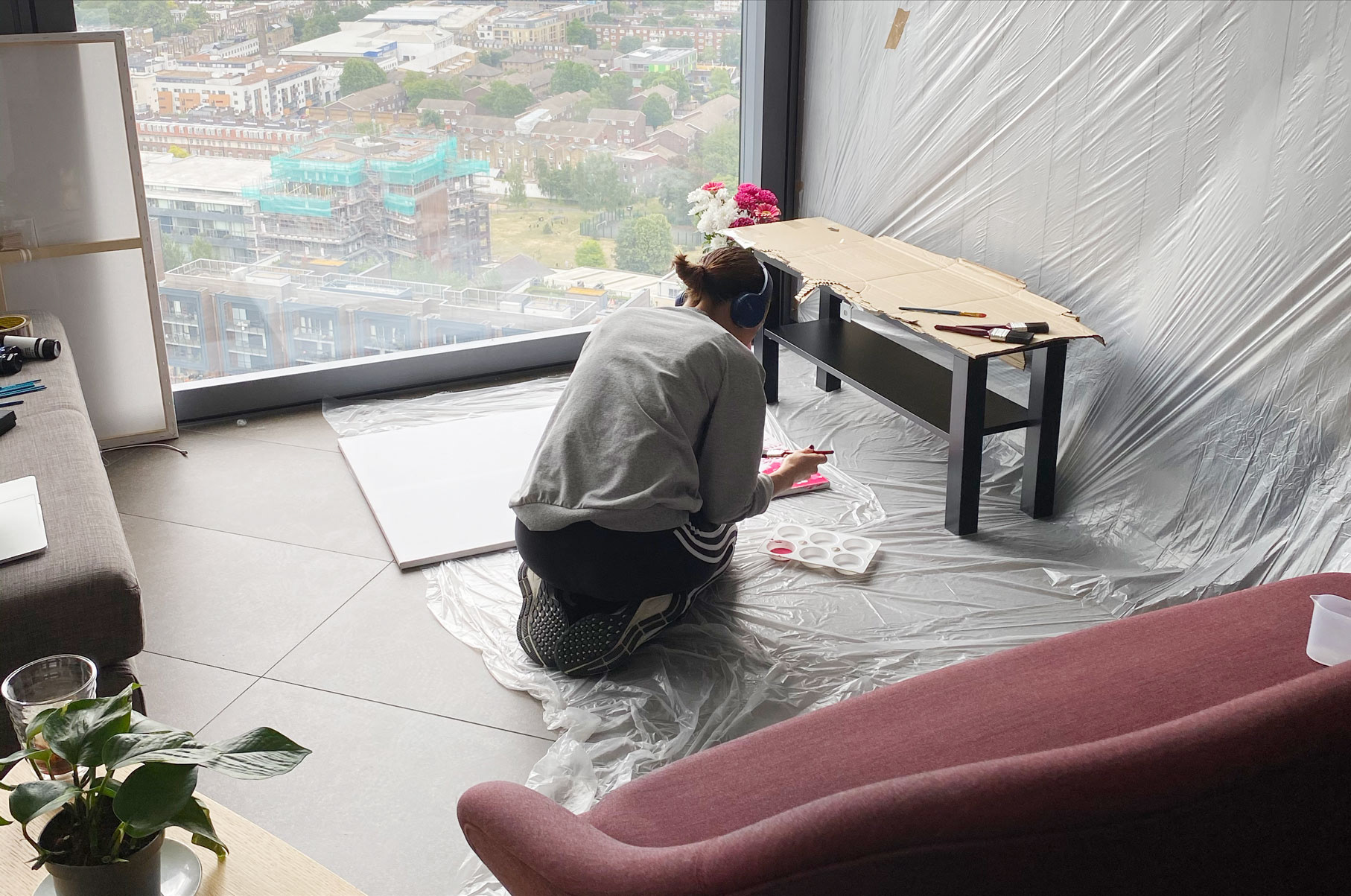 Mi nombre es Paola Milán, cuando era niña, si alguien me preguntaba qué quería ser de mayor, mi respuesta siempre era: - "¡Voy a ser artista! ".   
Estudié diseño gráfico en mi país natal, México, en la CDMX y al terminar la carrera me mudé a Madrid. Después de quince años trabajando en e-commerce en la moda y la banca, como diseñadora gráfica, decidí darle un giro a mi vida y convertirme en artista independiente. 
Necesitaba empezar a hacer algo que me hiciera conectar más conmigo misma, y con lo divinidad. Algo que me permitiera brillar con total libertad, y con un propósito más profundo,  y la respuesta fue: -"¡¡Pintar!!". 
Soy amante de la estética y el estilismo, amo el diseño de interiores. Mi trabajo se centra en ayudar a crear una pieza única, especial, y a veces personalizada. Al pintar, no solo estoy creando una obra de arte colorida, sino estoy creando magia, con la intención de compartir energía y difundir alegría, entusiasmo, felicidad, fuerza, integridad, amor propio y más... - ¡y funciona!
SOMOS ENERGÍA! TODO ES ENERGÍA.  - INCLUSO MIS OBRAS DE ARTE! 
My name is Paola Milán, when I was a child, when someone asked me what I wanted to be when I grew up, my answer was always: - "I'm going to be an artist!". 
I studied graphic design in my native Mexico, in CDMX and when I finished my degree I moved to Madrid, Spain. After spending fifteen years working in e-commerce in fashion and banking as a graphic designer, I decided to turn my life around and become an artist. I needed to start doing something that would make me more in touch with me, and. with the divinity. Something that allowed me to shine with total freedom and with a deeper purpose, and the answer was: 
-"Paint !!!" I'm a lover of aesthetics and styling. My art is focused on helping to create a unique, special, and sometimes personalized pieces. When I paint, I'm not only producing a colorful work of art, but I am creating magic with the intention of sharing energy and spreading joy, strength, enthusiasm, integrity, self-love, and more. - And it works! 
WE ARE ENERGY! EVERYTHING IS ENERGY. - EVEN MY PAINTINGS!